---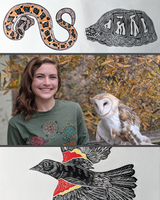 Block Printing with Wildlife Educator Sarah Lynn Bowser
Regular price $ 19.99 USD
Go wild for block printing with wildlife educator, naturalist and artist Sarah Lynn Bowser. Start today! 
Learn the basics and beyond of block print illustration in 4 HD video lessons (4 total hours)
Learn about native wildlife species from a professional naturalist


Get immediate, lifetime access to all class content

 

on

 

Sktchy
Class Overview

The class comprises 4 hours of HD video instruction:

Lesson 1: Learn the Block Printing Basics - California Kingsnake
This lesson covers sketching your design, transferring it to the block, carving tools and techniques and the printing process. To get started, we'll focus on a simple design inspired by an often vilified animal: the snake. We will focus primarily on the snake's scales and patterns, using its reliable repetition to practice carving techniques and build the skill set needed for the remaining lessons.

Lesson 2: Add Patterns & Color - Eastern Box Turtle
In this lesson, you'll create a block print illustration of an Eastern Box Turtle, focusing on its beautiful structure and patterns especially on the reptile's carapace. You will also layer color into your prints.

Lesson 3: Capture Fine Details with Multiple Colors - Red-Winged Black Bird
Now that you've learned the block-printing basics, it's time to create a more complex design inspired by the Red-Winged Black Bird. We will focus on the minute details within our subject's feathers and learn how to implement multiple colors into a single printing block.

Lesson 4: Create a Multi-Block Print with Varied Colors/Patterns - Western Hognose Snake
In our final lesson, you will create a layered print of a Western Hognose Snake combining all of the skills learned in the previous lessons. We'll focus on carving fine details into our block, layering multiple blocks with different patterns and mixing custom colors with our printing ink to create original shades perfect for our subject matter.
Meet Your Teacher

Sarah Lynn Bowser is an artist and naturalist currently based in San Francisco, California. Since earning her B.S in Forest Resources & Environmental Education, she has been a full-time environmental educator in locations across the country. While a naturalist by trade, Sarah is also a self-taught artist and founder of The Overlooked Opossum, a project that celebrates underappreciated native wildlife through block print illustration. (Sktchy, Instagram)
Lifetime Access - Anytime, Anywhere

With your purchase, you'll get immediate, lifetime to the class on Sktchy, where you can communicate with Sarah Lynn, connect with fellow students from around the world and get constructive feedback on your class art via desktop and any iOS or Android mobile devices.
FAQs
What tools and materials do I need to take this class?
Sarah Lynn will be using the following supplies in her lessons:
Carving blocks (3 x 4 inch, 6 x 12 inch, 8 x 10 inch)
Printing paper (5 x 7 inch and 8 x 10 inch) OR cotton rag paper, torn to preferred size
Block printing ink (red, blue, yellow, black and white recommended)
Stamp pad (in preferred color)
Tracing paper
Printing barren OR wooden spoon (or other substitute)
Printing brayer
Speedball Linoleum Cutter Assortment #1 (https://amz.run/51mv)
Masking tape
Pencil
X-acto knife (optional)
Sharpie (optional) 
What skill level do I need for this class?
Beginner to intermediate.
Do I get lifetime access to the class?
Yes! Your purchase gets you lifetime access to ALL class content.
Can I go at my own pace?
Yes! You get lifetime access to all class content, so you can go at your own pace and revisit whenever and as often as you like.
What is your refund policy?
All sales are final.
Any Questions?
Contact us. We'll reply asap.