---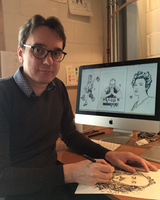 Draw Like a Comic Artist
Regular price $ 19.99 USD
Learn how to draw like a comic artist - with clean lines and expressive detail - from Belgian illustrator Patrick Hochstenbach.
4+ hours of video instruction
4 in-depth video lessons, complete with inspiring reference photos
Immediate, lifetime access to all class content

on

 

Sktchy


LESSON 1: THE FACE
Learn the fundamentals of drawing a face with correct proportions. Using comic book techniques, Patrick will help you level up your drawing skills when drawing each of the main facial features and the head itself. Then, he will employ these techniques while creating an entire portrait from start to finish.
Lesson length: ~65m
LESSON 2: HAIR
No more sloppy, scribbled hairdos! In this lesson, you'll learn simple steps for drawing realistic hair that you can use in comic art and also when you're aiming for realism. Patrick will share techniques like "automatic drawing" and "feathering" that will help you style any 'do in your art. In the second half of the lesson, Patrick will create a hairy portrait from start to finish so you can see the process strand by strand.
Lesson length: ~45m
LESSON 3: HANDS
The human hand is notoriously daunting to draw, and many artists are very creative at avoiding the task altogether. But when you hide the hand in a pocket, you forfeit the opportunity to make your portraits so much more expressive. In this lesson, Patrick will help you breakdown the hand into its various parts and then reconstruct it, bit by bit, in your drawings. Then, he'll create a handsy drawing from start to finish to show you exactly how to lend your portraits a hand. 
Lesson length: ~65m
LESSON 4: THE BODY
Zoom out from the face, and learn the fundamentals of drawing the human figure all the way down to the shoe laces. The techniques in this lesson will literally help your portraiture grow. In the final section, Patrick will show you his process for creating a full-figure portrait.
Lesson length: ~85m
FAQs 
What tools do I need to take this class?
Hard pencil, like an H2
Color pencil, blue and/or red (optional)
Inking tool with black ink (nib pen, or brush, or fine-liner pen 0.3 mm, or fountain pen, or anything that can produce a black line)
Kneaded eraser
Hot-pressed watercolor paper
Can I go at my own pace?
Yes! You keep lifetime access to ALL class content, including a recording of the live Q&A, so you can go at your own pace.
What skill level do I need for this class?
Beginner to intermediate.
Do I get lifetime access to the class?
Yes! Your purchase gets you lifetime access to ALL class content.
What is your refund policy?
All sales are final.

Any Questions?
Contact us. We'll reply asap.