---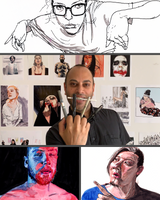 Light & Loose Inking with Illustrator Vin Ganapathy
Overcome ink intimidation by practicing light and loose ink-drawing techniques with illustrator Vin Ganapathy.
100 minutes of of HD video instruction
5 video lessons, 

complete with inspiring reference photos

Immediate, lifetime access to all class content

on

 

Sktchy


Class Overview
The class comprises 100 minutes of HD video instruction:

Lesson 1: Likeness is Nice, but a Blob is Better
Create a light-and-loose contour drawing - Vin calls it a "blob" - before going in with more precision to draw the finer details. This is a great way to warm up for a drawing session and practice how to salvage a portrait that has gotten away from you.
Lesson 2: Gesture Drawing from Muscle Memory
Create several loose gesture drawings of the same face before drawing it one last time from "muscle memory."
Lesson 3: Inking from an Atypical Starting Point
Change up your perspective by starting your ink drawing from an atypical point.
Lesson 4: Coloring First, Inking Last
Start with a layer of color and then draw over the top of it. Besides being fun, this exercise will help you achieve more dimension in your portraits.
Lesson 5: Unboxing a Foreshortened Subject
Learn two different techniques for drawing a subject from a foreshortened perspective.
Meet Your Teacher

Vin is an artist and art teacher whose illustration work has appeared in The Guardian, WNYC and Wall Street Journal. Drawing influence from his NYC surroundings, comic books and beloved artists like Egon Schiele, Vin is a prolific illustrator who loves mixing fine line work and sudden bursts of color in his art. Vin relishes the "unerasable-ness" of ink and concedes his "poor impulse control when it comes to buying pens." (Sktchy, Instagram)
Lifetime Access - Anytime, Anywhere
With your purchase, you'll get immediate, lifetime to the class on Sktchy, where you can communicate with Vin, connect with fellow students from around the world and get constructive feedback on your class art via desktop and any iOS or Android mobile devices.
FAQs
What art supplies do I need to participate?
Vin will be using the following supplies in his lessons:
Can I go at my own pace?
Yes! You keep lifetime access to ALL class content, so you can go at your own pace.
What skill level do I need for this class?
Beginner to intermediate.
Do I get lifetime access to the class?
Yes! Your purchase gets you immediate, lifetime access to ALL class content.
What is your refund policy?
All sales are final.
Any Questions?
Contact us. We'll reply asap.