---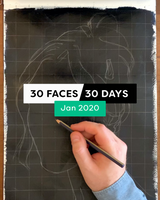 30 Faces/30 Days (01/20)
Regular price $ 19.99 USD
Improve your drawing skills, one face at a time, with six inspiring teachers and hundreds of fellow participants.
The Challenge: Draw the human face every day for 30 days. Start today! 
• 30 video drawing tips (~10 mins/tip)
• 30 inspiring reference photos
• Learn from six extraordinary teachers
• Get lifetime access with purchase
How It Works
Each day of the challenge, you get a reference photo featuring an inspiring face and a video tip on Sktchy. Watch the tip, draw your muse and share your drawing with a global community of fellow participants.
Meet Your Mentors
Chantal Vincent
Based in Sydney, Australia, Chantal fills her sketchbooks with portrait studies and urban sketches. She prefers pencil, ink and watercolor for their ease of use and portability, although she also loves to play with new materials and ways of approaching the creative process. 
I enjoy the stillness of the moment whilst drawing. It allows me to observe and appreciate things more deeply.
Find Chantal on Sktchy and Instagram.
France Van Stone
Based in New Jersey, France is a French-American, self-taught artist, art teacher and the author of the book Sketch!, which inspires "non-artists" to build a daily drawing habit.
Like all kids, I was given pencils and paper and was told to draw. At some point in life, some of us stop drawing. I just never stopped.

Find France on Sktchy and Instagram.
Gunhild Hope
Based in Norway, Gunhild is a portrait artist who loves to experiment with a variety of media and enjoys mixing them together. Her favourite tool is the ballpoint pen.
Drawing is a creative way to express myself, to communicate, and to better understand both myself and the world around me.
Find Gunhild on Sktchy and Instagram.
Margriet Aasman
After working for 30 years in Yukon, Canada, as a creative director in her own brand communications company, Margriet retired early to set up a clay studio in her house and start a daily drawing habit.
When I don't draw I become restless and feel like I should be. The minute I sit down with a pencil or pen, I feel calm and in the right place.
Find Margriet on Sktchy and Instagram.
Patrick Hochstenbach
Patrick is an illustrator and comic artist from Brugge in Belgium. He loves to work with brush and ink and is influenced by many Franco-Belgian artists such as Hergé, Franquin, Tardi and Giraud.
Drawing for me is a perfect way to relax and switch off my mind. Many people think you need to be very good at it to enjoy it. This is not the case. Drawing is a way to express yourself and this can be done at any skill level.
Find Patrick on Sktchy and Instagram.
Robin Hilthouse
Robin is an art lecturer in The Netherlands who teaches traditional and digital drawing techniques. As an artist, his specialty is creating extraordinarily detailed portraits using everyday ballpoint pens.
Why do I draw? I simply have to. It's second nature. On the bus, on the phone, in a meeting, during my holidays…I couldn't imagine myself without this amazing way of expression.
Find Robin on Sktchy and Instagram.
Muses for Days
The featured artists have hand-picked an inspiring reference photo for each of their drawing tips from our library of hundreds of thousands of faces.
The challenge will feature reference photos from a diverse group of inspiring muses, including new images from Rick Niece and Jenell Duhhcid – muses who have inspired thousands of portrait artists around the world to date. 
Face It (Not) Alone
A daily drawing challenge is, well, challenging. But you won't be facing it alone. The Sktchy community spans 100+ countries, so you'll be drawing and connecting with fellow portrait artists from around the world. 
30-Day Challenge, Lifetime Access
As a participant, you'll get lifetime access to all challenge content (videos, photos, etc.) on Sktchy, where you can communicate with the featured artists and connect with fellow participants from around the world via desktop and any iOS or Android mobile devices.
Up for the challenge?
Sign up now to get immediate, lifetime access to the challenge home on Sktchy. Click the "Add to Cart" button to start checkout.
FAQs
When does the challenge start?
This edition of the challenge ran in January 2020. But you can start whenever you want and go at your own pace as you keep lifetime access to all challenge content.
What tools do I need to participate?
Pencil or pen
Paper
Will power
What skill level do I need for this challenge?
The challenge is suitable for artists of all skill levels, from beginners on up. 
Do I need an iOS-device to participate?
No! We are hosting the challenge on Sktchy, which is available on iOS, Android and web.
Where do I access the challenge?
We will publish all content related to the challenge on Sktchy.
Do I get lifetime access to the challenge?
Yes! Your purchase gets you lifetime access to ALL challenge content.
What is your refund policy?
All sales are final.
Any Questions?
Contact us. We'll reply asap.