---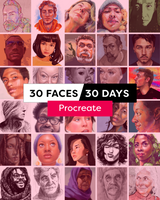 30 Faces/30 Days - Procreate (2022)
Regular price $ 59.99 USD
The Challenge: Create a portrait in Procreate every day for 30 days. Start today!
• 30 inspiring reference photos
• 30 video drawing lessons (~60 mins/lesson)
• Learn from extraordinary teachers
• Get lifetime access with purchase
How It Works
Each day of the challenge, you get a reference photo featuring an inspiring face and a video lesson on Sktchy. Watch the lesson, draw your muse and share your drawing with a global community of fellow participants.
Let's. Get. Digital.

Procreate for iPad is a portrait artist's best friend, allowing you to create anytime, anywhere, in any medium. In this challenge, you'll uncover the power of Procreate, one face at a time, with the guidance of extraordinary digital artists from around the world. We'll cover:

• Constructing the head
• Shading techniques
• Establishing focal points
• Identifying shapes
• Exploring limited values, complementary colors, etc.
• Creating texture
• Creating custom brushes
• Achieving accurate proportions/likeness
• Creating and organizing palettes
• Framing the face
• And much more!
Meet Your Teachers
Learn from 10 extraordinary Procreate artists from around the world.
1. David Tenorio (Sktchy, Instagram)
2. Dylan Sara (Sktchy, Instagram)
3. Faith Humphrey Hill (Sktchy, Instagram)
4. Jordan M. Rhodes (Sktchy, Instagram)
5. Justin Maas (Sktchy, Instagram)
6. Kate Higgins (Sktchy, Instagram)
7. Kimberly Petersen (Sktchy, Instagram)
8. Lisa Filion (Sktchy, Instagram)
9. Lisa Kröger (Sktchy, Instagram)
10. Tiffany S. DaVanzo (Sktchy, Instagram)
30-Day Challenge, Lifetime Access
As a participant, you get lifetime access to all challenge content (videos, photos, etc.) on Sktchy, where you can communicate with your teachers and connect with fellow participants from around the world via desktop and any iOS or Android mobile devices.
FAQs
What materials do I need to participate?
The teachers will all be using Procreate for iPad in their lessons. That said, you can use any medium, digital or analog, to create your drawings.
Is the content all new?
Yes! The teachers created their video lessons specifically for this edition of the challenge.
What skill level do I need for this challenge?
The challenge is suitable for artists of all skill levels, from beginners on up. 
Do I need an iOS-device to participate?
No! We are hosting the challenge on Sktchy, which is available on iOS, Android and web.
Where do I access the challenge?
We publish all content related to the challenge on Sktchy.
Do I get lifetime access to the challenge?
Yes! Your purchase gets you lifetime access to ALL challenge content.
What is your refund policy?
All sales are final.
Any Questions?
Contact us. We'll reply asap.