---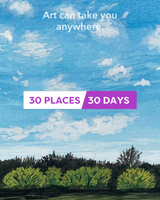 30 Places/30 Days
Regular price $ 59.99 USD
Explore an inspiring new place through art, every day for 30 days.
Art can take you anywhere. This class will whisk your imagination around the world, from lush landscapes and teeming town squares to charming interiors and inspiring city scenes. Along the way, you'll depict 30 inspiring places with an international group of art teachers as your tour guides.
• 30 inspiring reference photos
• 30 in-depth video lessons (~60 mins/lesson)
• Learn from extraordinary art teachers

• Get l
ifetime access with purchase
How It Works
Each day of the class, you'll get a reference photo featuring an inspiring place and a video lesson on Sktchy. Watch the lesson, depict the place and share your artwork with a global community of art students.

Meet Your Teachers
Learn invaluable artistic tips and techniques across a variety of media while depicting your teachers' favorite places.
• Amy Stewart (Sktchy, Instagram)
• Michael Solovyev (Sktchy, Instagram)
• Jedidiah Dore (Sktchy, Instagram)
• Hesam Hasanpour (Sktchy, Instagram)
• Tazab (Sktchy, Instagram)
• Zaruhy Sangochian Jiménez (Sktchy, Instagram)
• Leah Marshall (Sktchy, Instagram)
• Charlotte Hamilton (Sktchy, Instagram)
• RG Peredo (Sktchy, Instagram)
• David Morales (Sktchy, Instagram)
• Leslie Lambert (Sktchy, Instagram)
• Hayley Axelrad (Sktchy, Instagram)
• Giacomo Sardelli (Sktchy, Instagram)
• Mark Poulier (Sktchy, Instagram)
• Sergei Tihomirov (Instagram)
• Susan Mills (Sktchy, Instagram)
30-Day Challenge, Lifetime Access
As a participant, you'll get lifetime access to all class content (videos, photos, etc.) on Sktchy, where you can communicate with your teachers and connect with fellow participants from around the world via desktop and any iOS or Android mobile devices.
FAQs
What materials do I need to participate?
• Pencils
• Pens (Ink and felt-tip)
• Watercolor/gouache set
• Brushes (thick and thin)

What skill level do I need for this challenge?
The challenge is suitable for artists of all skill levels, from beginners on up.
Do I need an iOS-device to participate?
No! We are hosting the challenge on Sktchy, which is available on iOS, Android and web.
Where do I access the challenge?
We will publish all content related to the challenge on Sktchy.
Do I get lifetime access to the challenge?
Yes! Your purchase gets you lifetime access to ALL challenge content.
What is your refund policy?
All sales are final.
Any Questions?
Contact us. We'll reply asap.