---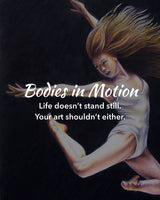 Bodies in Motion
Regular price $ 29.99 USD
Life doesn't stand still. Your art shouldn't either.
Learn how to bring your figures to life in graphite, ink and watercolor/gouache. Create 10 drawings in 10 lessons with 10 inspiring teachers. 
• 10 inspiring reference photos
• 10 extraordinary figurative-art teachers

• 10 in-depth video lessons (~60 mins/lesson)
• Lifetime access with purchase
How It Works
In each lesson, you'll get a reference photo featuring an inspiring figure and a video lesson on Sktchy. Watch the lesson, draw your muse and share your drawing with a global community of art students.


Meet Your Teachers
• Juan Perednik (Sktchy, Instagram)
• Tiffany S. DaVanzo (Sktchy, Instagram)
• Derek McClure (Sktchy, Instagram)
• Kate Higgins (Sktchy, Instagram)
• Soroush Saber (Sktchy, Instagram)
• Sarah Mayr (Sktchy, Instagram)
• Patrick Hochstenbach (Sktchy, Instagram)
• Vin Ganapathy (Sktchy, Instagram)
• Karl Staub (Sktchy, Instagram)
• Elena Mahoney Sánchez (Sktchy, Instagram)

Lifetime Access - Anytime, Anywhere
As a participant, you'll get lifetime access to all class content (videos, photos, etc.) on Sktchy, where you can communicate with your teachers and connect with fellow participants from around the world via desktop and any iOS or Android mobile devices.
FAQs
What materials do I need to participate?
• Graphite pencils
• Ink pens
• Watercolor/gouache set
What skill level do I need for this class?
The class is suitable for artists of all skill levels, from beginners on up.
Do I need an iOS-device to participate?
No! We are hosting the challenge on Sktchy, which is available on iOS, Android and web.
Where do I access the class?
We will publish all content related to the class on Sktchy.
Do I get lifetime access to the class?
Yes! Your purchase gets you lifetime access to ALL class content.
What is your refund policy?
All sales are final. 
Any Questions?
Contact us. We'll reply asap.