---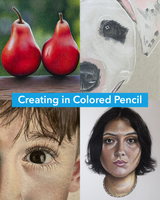 Creating in Colored Pencil
Regular price $ 19.99 USD
Sharpen your skills and rediscover the fun of creating in colored pencil.
6+ hours of HD video instruction

4 video lessons, complete with inspiring reference photos

Immediate, lifetime access to all class content 

on

 

Sktchy
Class Overview
The class comprises 6+ hours of HD video instruction:
Lesson 1: Portrait in Colored Pencil with Kate Higgins

Lesson 2: Animal Portrait in Colored Pencil with Jennifer Linderman

Lesson 3: Portrait in Colored Pencil with Tiffany Anderson

Lesson 4: Still Life in Colored Pencil with Dominique Cates
Meet Your Teachers

Kate Higgins is an Australia-based, Wales-born artist with a passion for creating bold and intricate lifeform drawings. "I love the immediacy, precision and vibrancy that colored pencil work offers," says Kate. "Colored pencils allow me to create nuanced tones in my portraiture work, which help to convey interesting impressions of light, form and contour. Combining and contrasting cool and warm tones to create unique color moods makes for the most fabulous drawing exploration." (Sktchy, Instagram)
Jennifer Linderman is a colored-pencil artist and art teacher based in Oakland, CA. "I love their versatility, simplicity, and complexities all rolled into one," she says of colored pencils. "I look forward to sharing my passion for teaching and love of colored pencils with you in this class!" (Sktchy, Instagram)
Dominique Cates is a self-taught, colored-pencil artist from Auckland, New Zealand. "Colored pencils are my favorite medium for their ease of use and ability to capture precise details," says Dominique. "I have a particular love for high contrast, bold colors, reflections and crisp lines." (Sktchy, Instagram)
Tiffany Anderson is a hyperrealistic colored-pencil artist based in Columbia, Maryland. "I've always loved art and had a natural talent for it, but it was through my realistic portraits that I started to see my true potential," she says. "It felt like I found an undiscovered talent, only it had been there all along. I came to really love drawing people." (Sktchy, Instagram)
Lifetime Access - Anytime, Anywhere

With your purchase, you'll get immediate, lifetime to the class on Sktchy, where you can communicate with your teachers, connect with fellow students from around the world and get constructive feedback on your class art via desktop and any iOS or Android mobile devices.
FAQs
What tools and materials do I need to take this class?
Your teachers will be using the following supplies in this class:
What skill level do I need for this class?
Beginner to intermediate.
Do I get lifetime access to the class?
Yes! Your purchase gets you lifetime access to ALL class content.
Can I go at my own pace?
Yes! You get lifetime access to all class content, so you can go at your own pace and revisit whenever and as often as you like.
What is your refund policy?
All sales are final.
Any Questions?
Contact us. We'll reply asap.