---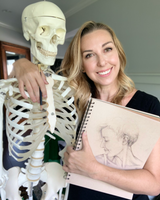 Drawing Anatomy: The Human Body with Tiffany S. DaVanzo
Regular price $ 29.99 USD
Learn how to draw the human body from head to toe with professional medical illustrator Tiffany S. DaVanzo as your guide.
7 hours of HD video instruction

9 in-depth video lessons

, complete with inspiring reference photos
Immediate, lifetime access to all class content

on

 

Sktchy
Class Overview

The class comprises seven hours of HD video instruction:
Lesson 1: Introduction to Human Anatomy and Body Proportions
Lesson 2: Anatomy of the Neck
Lesson 3: Portrait of Stinna Kristensen (Twisting Neck Study)
Lesson 4: Anatomy of Torso and Back
Lesson 5: Portrait of Noel Z. (Torso Study)
Lesson 6: Anatomy of Arms and Hands
Lesson 7: Portrait of Livey Lizette (Hand Study)
Lesson 8: Anatomy of Lower Body
Lesson 9: Portrait of Noel Z. (Full Body Study)
Meet Your Teacher

Tiffany is a freelance medical illustrator specializing in art for medical publications, education and the medical legal field. She is a graduate of the Johns Hopkins University School of Medicine, Art as Applied to Medicine Program. Tiffany is a Certified Medical Illustrator and has been a member of the Association of Medical Illustrators since 2001. She lives in East Tennessee with her husband and two young daughters. (Sktchy, Instagram)
Lifetime Access - Anytime, Anywhere

With your purchase, you'll get immediate, lifetime to the class on Sktchy, where you can communicate with Tiffany, connect with fellow students from around the world and get constructive feedback on your class art via desktop and any iOS or Android mobile devices.
FAQs
What tools and materials do I need to take this class?
This class is not medium-specific. That said, here is what Tiffany uses in her lessons:
Graphite Pencils

Pens

Markers

Brushes

Watercolor Paint

Eraser

Paper (Drawing, Sketchbook, Mixed-Media or Watercolor)

Procreate for iPad
What skill level do I need for this class?
Beginner to intermediate.
Do I get lifetime access to the class?
Yes! Your purchase gets you lifetime access to ALL class content.
Can I go at my own pace?
Yes! This is an on-demand class, and that means that you can go at your own pace and revisit the class content whenever you like because you have lifetime access.
What is your refund policy?
All sales are final.
Any Questions?
Contact us. We'll reply asap.