---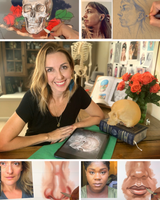 Drawing Anatomy: The Human Face with Tiffany S. DaVanzo
Regular price $ 29.99 USD
Learn how to draw the human face from the inside out.
Certified medical illustrator Tiffany S. DaVanzo creates illustrations for medical studies and anatomical and surgical textbooks. Her clients include Harvard Medical School, John Hopkins Medicine and other prestigious institutions.
Tiffany is also a portrait artist who uses her deep knowledge of human anatomy to create beautiful, expressive portraits, and this is exactly what you will learn how to do in this class.
8+ hours of HD video instruction
10 lessons (5 facial anatomy lessons + 5 full-length portrait tutorials)
Inspiring reference photos for practicing

Get immediate, lifetime access to all class content
Class Outline

The class comprises over eight hours of HD video instruction:
Lesson 1: Anatomy of the Skull
Lesson 2: The Skull (portrait)
Lesson 3: Anatomy of the Eyes
Lesson 4: The Eyes (portrait)
Lesson 5: Anatomy of the Nose
Lesson 6: The Nose (portrait)

Lesson 7: Anatomy of the Mouth
Lesson 8: The Mouth (portrait)
Lesson 9: Anatomy of the Ear
Lesson 10: The Ear (portrait)
Bonus Lesson: The Skeletal System
Bonus Lesson: The Muscular System

Bonus Lesson: Surface Anatomy

Bonus Lesson: Anatomical Changes Over Time

Lifetime Access - Anytime, Anywhere
With your purchase, you'll get lifetime access to the class on Sktchy, where you can communicate with Tiffany, connect with fellow students from around the world and get constructive feedback on your class art via desktop and any iOS or Android mobile devices.
Bone up!

Click "Add to Cart" to get started with checkout. 
FAQs 
What tools do I need to take this class?
This class is not medium-specific. That said, here is what Tiffany uses in her lessons:
Drawing, mixed media or watercolor paper
Variety of graphite pencils, ink, colored pencils or watercolors
Eraser
Hand mirror
Lightbox, or tracing paper
Procreate for iPad 
Can I go at my own pace?
Yes! You keep lifetime access to ALL class content so you can go at your own pace.
What skill level do I need for this class?
Beginner to intermediate.
Do I get lifetime access to the class?
Yes! Your purchase gets you lifetime access to ALL class content.
What is your refund policy?
All sales are final.

Any Questions?
Contact us. We'll reply asap.