---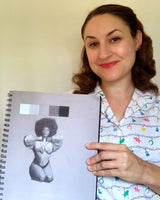 Figures in Charcoal with Tess-Marie White
Regular price $ 19.99 USD
Learn classical figure-drawing techniques and sharpen your drawing skills with charcoal.
4 hours of HD video instruction

4 in-depth video lessons, complete with inspiring reference photos

Immediate, lifetime access to all class content

 

on

 

Sktchy
Class Overview

The class comprises 4 hours of HD video instruction:

Lesson 1: Blocking in the Figure
First, learn about the materials you'll use to create your figure drawing. Then, jump into the initial block-in process, focusing on capturing a beautiful gesture and basic anatomy.

Lesson 2: Drawing in the Shadows
It's time to add shadow to your figure. Learn the difference between form shadows and cast shadows and shadows and halftones, and discover why we keep our shadow values flat and do most of our rendering in the light.

Lesson 3: Rendering the Figure in Light
Learn how to bring a beautiful sense of form to your drawing by rendering in the lights using both charcoal and white chalk, keeping the values in your lights clean and well organized to create a beautiful light impression.

Lesson 4: Drawing a Complete Figure
Use all of the skills you've learned in the previous lessons to create a finished figure drawing, from block-in to final rendering in the lights.

Meet Your Teacher

Tess-Marie earned her BFA from the Laguna College of Art & Design in 2006. She has studied art and art history in Italy and interned in Exhibitions and European Painting at the Fine Arts Museums of San Francisco. She studied at the Golden Gate Atelier in Oakland, CA, from 2011 to 2015 and received a scholarship from the Art Renewal Center in 2013.
A self-described "escapist artist," Tess participated in a mentorship program hosted by Women in Animation at Pixar and worked as a concept artist and production coordinator on the animated short Let's Eat. (Sktchy, Instagram)
Lifetime Access - Anytime, Anywhere

With your purchase, you'll get immediate, lifetime to the class on Sktchy, where you can communicate with Tess-Marie, connect with fellow students from around the world and get constructive feedback on your class art via desktop and any iOS or Android mobile devices.
FAQs
What tools and materials do I need to take this class?
Tess-Marie will be using the following supplies in her lessons:
Charcoal (Medium, Soft)
Charcoal Pencil
Pen Knife or Sharpener
Sanding Block
Bristle Fan Brush, Size #6
Chamois

Blending Stumps

Spray Fixative

Painter's Tape
Paper (Sketchbook or Toned Paper, Glassine or Waxy Paper) 
What skill level do I need for this class?
Beginner to intermediate.
Do I get lifetime access to the class?
Yes! Your purchase gets you lifetime access to ALL class content.
Can I go at my own pace?
Yes! You get lifetime access to all class content, so you can go at your own pace and revisit whenever and as often as you like.
What is your refund policy?
All sales are final.
Any Questions?
Contact us. We'll reply asap.