---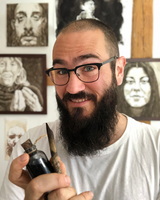 Ink Naturally with Dylan Sara
Regular price $ 39.99 USD
Make natural inks. Draw inspiring faces. Become an organic artist.
In this class, organic artist Dylan Sara will teach you how to make natural inks using simple ingredients and methods and guide you through the process of creating a gallery of natural-ink portraits.
20+ hours of HD video instruction

"How to Ink Naturally" tutorials on organic ink making, pen carving, foraging and more   

22 full-length portraiture tutorials

Inspiring reference photos

Lifetime access to all class content
Get your hands delightfully dirty.

First, you'll learn simple ways to create organic inks using accessible ingredients, no matter where you live.
Dylan will inspire you to get outdoors and forage for the ingredients to make your own art supplies.
This will keep you connected to nature, reinvigorate your creative process and cut down on the cost of art supplies.
Why buy a pen when you can whittle your own?!

Draw inspiring faces in natural ink. 

Now that you have your organic art supplies, it's time to draw! In 21 full-length portraiture tutorials, Dylan will demonstrate his organic creative process while sharing tips on line work, shadow mapping, edge control and much more.
Lifetime Access - Anytime, Anywhere
With your purchase, you'll get lifetime access to the class on Sktchy, where you can communicate with Dylan, connect with fellow students from around the world and get constructive feedback on your class art via desktop and any iOS or Android mobile devices.
FAQs
What tools do I need to participate?
To try Dylan's specific techniques, you'll need a broad-edged calligraphy pen (and/or a whittled stick), ink or watercolor, a flat brush and paper that can handle wet media.
To create zero-waste art supplies from organic materials, we recommend a sharp pocket knife for whittling, sticks, cutting board, funnel, sieve and recycled jars.
In the class, Dylan will demonstrate how to make ink out of organic ingredients such as beetroot, frozen blueberries, turmeric, avocados, lemons, baking soda, vinegar and salt. You don't need these exact ingredients to make ink yourself. You can probably use ingredients you already have in the pantry or growing naturally in your neighborhood.
DISCLAIMER: Beware of poisonous or otherwise dangerous materials in nature. Sktchy, LLC, is not liable for any damage or harm arising from any action whatsoever taken in connection with this or any other Sktchy class.
Can I go at my own pace?
Yes! You keep lifetime access to ALL class content, including a recording of the live Q&As, so you can go at your own pace.
What skill level do I need for this class?
Beginner to intermediate.
Do I get lifetime access to the class?
Yes! Your purchase gets you lifetime access to ALL class content.
What is your refund policy?
All sales are final.

Any Questions?
Contact us. We'll reply asap.