---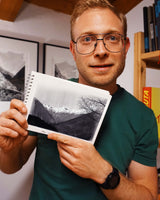 Landscapes in Pen & Ink with Rik Reimert
Regular price $ 19.99 USD
Learn how to capture the depth, beauty and mystery of natural landscapes in pen and ink with artist Rik Reimert.
4 hours of HD video instruction

4 in-depth video lessons, complete with inspiring reference photos

Immediate, lifetime access to all class content on Sktchy
Class Overview
The class comprises 4 hours of HD video instruction:
Lesson 1: Fishing on Lake Weissensee (Carinthia, Austria)

Lesson 2: Mountain Range (Stubai Valley, Tirol, Austria)

Lesson 3: Cabin in the Woods (Stubai Valley, Tirol, Austria)

Lesson 4: Boat Docked at Lake Derwent (Keswick, United Kingdom)
Meet Your Teacher

Rik is a Dutch, self-taught, pen-and-ink artist and urban sketcher based in the Austrian Alps. "Living in the mountains, it's easy to see where my inspiration comes from," he says. "I just have to look out the window." "You can't erase ink," he says, "and this is the part I love most about it. You have to work with your mistakes. I love the challenge of creating depth and contrast using only black ink with white highlights. I'm happy when people think for a moment my artwork is actually a photograph." (Sktchy, Instagram)
Lifetime Access - Anytime, Anywhere

With your purchase, you'll get immediate, lifetime to the class on Sktchy, where you can communicate with Rik, connect with fellow students from around the world and get constructive feedback on your class art via desktop and any iOS or Android mobile devices.
FAQs
What tools and materials do I need to take this class?
Rik will be using the following supplies in this class:
Pencil (B or 2B)
Fineliners (Sizes 0.1 and 0.3)
Brush Pen 
Brush (Sizes 1 and 6)
Eraser
Masking Fluid
Masking Tape
White Gel Pen
Watercolor Paper
What skill level do I need for this class?
Beginner to intermediate.
Do I get lifetime access to the class?
Yes! Your purchase gets you lifetime access to ALL class content.
Can I go at my own pace?
Yes! You get lifetime access to all class content, so you can go at your own pace and revisit whenever and as often as you like.
What is your refund policy?
All sales are final.
Any Questions?
Contact us. We'll reply asap.