---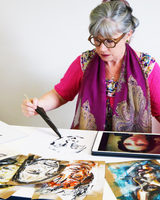 Make Your Mark with Joan Martin
Regular price $ 19.99 USD
Explore a variety of media and expressive mark-making techniques with experimental artist Joan Martin.
5+ hours of HD video instruction
9 in-depth video lessons, complete with inspiring reference photos
Immediate, lifetime access to all class content

on

 

Sktchy
Class Outline

The class comprises over four hours of HD video instruction:
Lesson 1: Portrait in Ink and Mixed Media

Lesson 2: Portrait in Graphite and Ink with Wax

Lesson 3: Portrait in Mixed Media with Alternative Applicators

Lesson 4: Portrait in Ink with Stamps and Stencils

Lesson 5: Portrait in Natural Ink with Organic Brushes

Lesson 6: Portrait in Ink with Natural Foliage

Lesson 7: Portrait in Ink and Paint on Natural Canvas

Lesson 8: Portrait on Rusted Canvas

Lesson 9: Portrait with Eco Print
Meet Your Teacher

Joan is an experimental artist and art teacher based in Durban, South Africa. Her art is an exploration of illustrative line quality and expressive mark-making and textures. "Too many people see art as a product instead of an experience," says Joan. "Experimentation and play are vital parts of learning. If you are not prepared to make mistakes you won't learn." (Sktchy, Instagram)
Lifetime Access - Anytime, Anywhere

With your purchase, you'll get immediate, lifetime to the class on Sktchy, where you can communicate with Joan, connect with fellow students from around the world and get constructive feedback on your class art via desktop and any iOS or Android mobile devices.
FAQs
What tools and materials do I need to take this class?
Joan will be using the following supplies in her lessons:
Paper (Printer, Smooth Drawing or Watercolor)
Acrylic Brushes (Fine, Medium and Large)
Acrylic Paint
Acrylic Drawing Pen
White Acrylic Marker
White Ink Pen
Ballpoint Ink Pens
Graphite Pencils
Household Items (Scissors, Candle, Hairspray, Credit Cards, Plastic Woven Bag, Feather or String, Ceramic Tiles, Plastic Tablecloth, Tupperware, Handful of Rusted Nails, etc. and a Mason Jar)
Grocery-Store Items (White Vinegar, Onions, Green or Rooibos Tea, Milk)
Garden Items (Sticks, Fresh Leaves and Flowers)
Masking Tape
Sponge Roller
Stamps and Stamp Pad
Thick Cardboard Box
Textured, Non-Slip Mat
Water
What skill level do I need for this class?
Beginner to intermediate.
Do I get lifetime access to the class?
Yes! Your purchase gets you lifetime access to ALL class content.
Can I go at my own pace?
Yes! This is an on-demand class, and that means that you can go at your own pace and revisit the class content whenever you like because you have lifetime access.
What is your refund policy?
All sales are final.
Any Questions?
Contact us. We'll reply asap.