---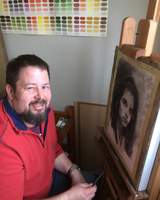 Portrait in Charcoal with Neil Rogers
Ready to get your hands dirty? Draw a portrait in charcoal with Neil Rogers, a UK-based artist with 30+ years' experience in the medium.
2.5+ hours of HD video instruction
4 in-depth video lessons, complete with inspiring reference photo
Immediate, lifetime access to all class content

on

 

Sktchy
LESSON 1
Neil will share his process for selecting a reference photo for a charcoal portrait, and teach you how to manipulate the photo using free digital tools. You'll also explore different types of charcoal and the various effects you can create with them.
Lesson length: ~27m
LESSON 2
It's time to make the first marks of your portrait! Neil will teach you the importance of measuring so you can get accurate proportions. You'll identify and draw the big shapes of your portrait, and "cover the ground" with gestural marks.
Lesson length: ~45m
LESSON 3
You'll define the features of the face, concentrating on the eyes, nose and mouth. Neil will teach you how to create form drawing with an eraser and how you can use hard and soft edges to bring your portrait to life.
Lesson length: ~60m
LESSON 4
You'll learn techniques for drawing hair in charcoal and put the finishing touches on your portrait to make it jump off the paper.
Lesson length: ~26m
Lifetime Access - Anytime, Anywhere
With your purchase, you'll get immediate, lifetime to the class on Sktchy, where you can communicate with Neil, connect with fellow students from around the world and get constructive feedback on your class art via desktop and any iOS or Android mobile devices.
FAQs
What tools do I need to take this class?
Heavy paper (11" x 17")
Willow or vine charcoal
Compressed charcoal
Charcoal pencil (soft or extra soft)
Kneadable eraser
Pencil-style eraser, e.g., Tombow mono zero eraser or similar
Blending stumps
For measuring, a long thin paint brush or clear plastic ruler
Fixative or hairspray
Paper towels

White charcoal pencil (optional)

Charcoal powder (optional)

Acetone and mist sprayer (optional)
Can I go at my own pace?
Yes! You keep lifetime access to ALL class content, so you can go at your own pace.
What skill level do I need for this class?
Beginner to intermediate.
Do I get lifetime access to the class?
Yes! Your purchase gets you lifetime access to ALL class content.
What is your refund policy?
All sales are final.

Any Questions?
Contact us. We'll reply asap.