---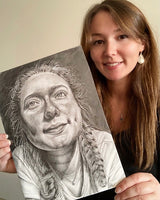 Portrait in Graphite with Kate Higgins
Regular price $ 19.99 USD
Learn how to create a captivating, lifelike portrait with just a pencil and piece of paper.
5+ hours of HD video instruction
6 in-depth portraiture lessons complete with inspiring reference photo

Immediate, lifetime access to all class content

on

 

Sktchy
Class Overview

In this class, artist Kate Higgins will teach you how to create a realistic graphite portrait that will bring your sketchbook page to life. Pencil stroke by pencil stroke, Kate will guide you as you create your own intricate portrait, from mapping out the proportions of the face to shading in those very last details. Along the way, you'll learn a range of drawing techniques and concepts. In the end, you'll be able to create a portrait that captures your subject's likeness and your viewer's attention.
Lesson 1: Materials, Prep and Structure
Get familiar with the tools you'll be using to create your intricate graphite portrait, consider your choice of subject and composition and start to outline a base structure.
Lesson 2: Developing Structure and Incorporating Shapes
Develop a base structure and consider proportions while adding internal shapes to isolate key areas of value, shadow and detail.
Lesson 3: Laying Base Values and Developing Key Focal Points
Begin adding values via a subtle layering approach while considering key composition focal points.
Lesson 4: Developing Dimension, Layering and Blending
Develop impactful value relationships while applying blending techniques to create subtle gradation between values.
Lesson 5: Finalizing Features and Dimension
Develop features with intricate observations and detail, including light and shadow, while working with blending tools and erasers to enhance a sense of realism, dimension and contrast.
Lesson 6: Final Evaluation and Online Presentation
Pull back on overworked areas, consider ornaments to complement your portrait (e.g., clothes, jewelry, background features), evaluate your finished piece and learn how to present your art beautifully online.
Meet Your Teacher

Kate is an Australia-based, Welsh-born artist with a passion for creating intricate, realistic graphite portraits that are full of personality. With her emphasis on structure and precision, Kate is the ideal portraiture guide, from sketch to signature.
Kate also knows how to present her finished pieces with visual polish. In this class, she will teach you how to share your art on social media in a way that impresses viewers and does your work justice. (Sktchy, Instagram)
Lifetime Access - Anytime, Anywhere
With your purchase, you'll get immediate, lifetime to the class on Sktchy, where you can communicate with Kate, connect with fellow students from around the world and get constructive feedback on your class art via desktop and any iOS or Android mobile devices.
FAQs

What art supplies do I need to participate?
Here is what Kate uses in this class:
Graphite Pencils (Standard and Mechanical, 2H - 8B)
Eraser
Drawing Paper
Blending Stump
Blending Brush
Masking-tape
Can I go at my own pace?
Yes! You keep lifetime access to ALL class content, so you can go at your own pace.
What skill level do I need for this class?
Beginner to intermediate.
Do I get lifetime access to the class?
Yes! Your purchase gets you immediate, lifetime access to ALL class content.
What is your refund policy?
All sales are final.
Any Questions?
Contact us. We'll reply asap.