---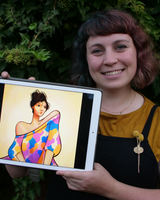 Portrait in Procreate with Sophie McPike
Create a fun, stylized portrait in Procreate with illustrator Sophie McPike.
2.5+ hours of HD video instruction
4 in-depth video lessons, complete with inspiring reference photo
Immediate, lifetime access to all class content

on

 

Sktchy
LESSON 1: GET LOOSE AND SKETCH
First you'll meet your muse, and identify the lines and rhythm in your reference photo. Next, you'll sketch out the main shapes, and loosen your hand with various exercises, including blind contour sketches. Finally, you'll create a blueprint for the rest of your portrait by picking and choosing your favorite lines and shapes from your various sketches.
Lesson length: ~32m
LESSON 2: REFINE YOUR LINES
Sophie will teach you how to refine your sketch using expressive, "living" lines. You'll tighten up your loose and scribbly sketches while looking at harmony and rhythm in your overall composition. By lesson's end, you'll have a clean line drawing ready for color!
Lesson length: ~39m
LESSON 3: ADD COLOR
Sophie will teach you how to create a harmonious color pallet and a fun way to apply color, by starting blocky and blurry and eventually tightening up. You'll also learn the importance of looseness and staying playful when applying color – and how to know when to stop.
Lesson length: ~65m
LESSON 4: FINISH LINE
Sophie will teach you various ways to elevate your final piece with fun textures, overlayed blend modes and color tweaks. You'll also learn how to thoughtfully let chance play a part when adjusting effects and overlays.
Lesson length: ~19m
FAQs
What tools do I need to take this class?
You'll need an iPad (any model/generation), Procreate's iPad app (available for purchase in the App Store on iPad) and an iPad stylus.
What Procreate skill level do I need for this class?
This class is perfect for beginner to intermediate Procreate users.
Can I go at my own pace?
Yes! You keep lifetime access to ALL class content, including a recording of the live Q&A, so you can go at your own pace.
Do I get lifetime access to the class?
Yes! Your purchase gets you lifetime access to ALL class content.
What is your refund policy?
All sales are final.
Any Questions?
Contact us. We'll reply asap.