---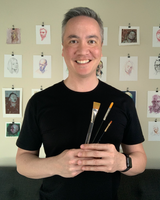 Portraits in Gouache: Exploring Color with Mike Creighton
Regular price $ 19.99 USD
Gouache is a mystery medium. This class isn't about solving the mystery. It's about falling in love with it.
Create four portraits in gouache, each in a distinct color scheme, with multidisciplinary artist Mike Creighton guiding you brush stroke by brush stroke. 
7 hours of HD video instruction
4 full-length portrait tutorials (~105 minutes each)

4 inspiring reference photos
Get immediate, lifetime access to all class content

on

 

Sktchy
Class Outline

In each lesson, you'll create a portrait in gouache using a distinct color scheme:
Lesson 1: Analogous Color Scheme
Use three adjacent colors in the color wheel to push beyond monochromatic portraits and introduce more range and harmony.

Lesson 2: Complementary Color Scheme
Bring forth optical vibrations and contrast with a color scheme that makes use of two colors diametrically opposed to each other on the color wheel.

Lesson 3: Triadic Color Scheme
Use a technique called gamut masking—or color-wheel masking—to create a color scheme made up of three distinct colors on the color wheel.

Lesson 4: Zorn Color Scheme
Attributed to Swedish artist Anders Zorn, this palette consists of just four colors: yellow ochre, ivory black, cadmium red and titanium white.
Got Questions? Get Answers!
In addition to the pre-recorded lessons, you'll get access to a 90-minute, live-recorded Q&A in which Mike answers questions from fellow students and does various demonstrations to clearly illustrate class concepts.
Lifetime Access - Anytime, Anywhere
With your purchase, you'll get immediate, lifetime to the class on Sktchy, where you can communicate with Mike, connect with fellow students from around the world and get constructive feedback on your class art via desktop and any iOS or Android mobile devices.
FAQs
What art supplies do I need to participate?
Here is what Mike uses in this class:
Gouache Paint
Watercolor Pencils
Graphite Pencil (H or HB)
140lb Cold Press Watercolor Paper
Brushes (Flats, Rounds and Filberts)
Flat Mixing Tray
Paper Towels
Water
Can I go at my own pace?
Yes! You keep lifetime access to ALL class content, so you can go at your own pace.
What skill level do I need for this class?
Beginner to intermediate.
Do I get lifetime access to the class?
Yes! Your purchase gets you immediate, lifetime access to ALL class content.
What is your refund policy?
All sales are final.
Any Questions?
Contact us. We'll reply asap.