---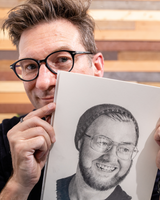 Portraits in Graphite with Derek McClure
Regular price $ 29.99 USD
Build the skills and confidence to create realistic portraits in graphite and play with perspective.
12+ hours of HD video instruction
2 multi-lesson portrait tutorials, complete with inspiring reference photos
Immediate, lifetime access to all class content

on

 

Sktchy
Class Overview

The human face is an inspiring but intimidating subject. In this class, portrait artist Derek McClure will teach you his gradual, detailed approach to capturing his subjects in graphite by focusing on one facial feature at a time. All you need are a pencil, paper and patience.
Section 1
In this seven-lesson section, Derek will guide you through his process of creating a realistic pencil portrait, with a focus on capturing texture and drawing one facial at a time.
Lesson 1: Introduction, Materials & Exercises
Lesson 2: Eyes
Lesson 3: Nose & Mouth
Lesson 4: Skin
Lesson 5: Beard
Lesson 6: Beanie & Neck
Lesson 7: Final Details
Section 2
In this eight-lesson section, we're going from realistic to hyperrealistic! Derek will demonstrate how creates his signature fisheye-lens portraits in graphite, teaching you how to play with perspective in fun, (literally) eye-opening ways.
Lesson 1: Introduction
Lesson 2: Nose
Lesson 3: Forehead
Lesson 4: Beanie
Lesson 5: Cheeks
Lesson 6: Mouth
Lesson 7: Beard
Lesson 8: Final Details

Meet Your Teacher

Derek is an Australian artist who fills his sketchbooks with lifelike portraits in graphite. With his gradual approach, Derek is an ideal guide through the journey of drawing the human face, whether your goal is to capture a precise likeness or play with perspective. (Sktchy, Instagram)
Lifetime Access - Anytime, Anywhere
With your purchase, you'll get immediate, lifetime to the class on Sktchy, where you can communicate with Derek, connect with fellow students from around the world and get constructive feedback on your class art via desktop and any iOS or Android mobile devices.
FAQs
What art supplies do I need to participate?
Derek will be using the following tools in his lessons:
Pencils (B, 2B)
Erasers (Kneadable & Plastic)
Generic Makeup Brush
Blending Stump
Sharpener
Paper Towels
Can I go at my own pace?
Yes! You keep lifetime access to ALL class content, so you can go at your own pace.
What skill level do I need for this class?
Beginner to intermediate.
Do I get lifetime access to the class?
Yes! Your purchase gets you immediate, lifetime access to ALL class content.
What is your refund policy?
All sales are final.
Any Questions?
Contact us. We'll reply asap.