---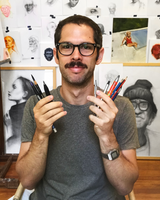 Portraits in Graphite with Juan Perednik
Regular price $ 19.99 USD
Learn the rules of drawing portraits in graphite – so you can break them.
6 hours of HD video instruction
5 in-depth video lessons including 4 full-length portrait tutorials
Immediate, lifetime access to all class content

on

 

Sktchy
Class Overview

In this class, portrait artist Juan Perednik will teach you the drawing techniques necessary to create a successful graphite portrait. More importantly, he'll teach you to be bold, loose and imaginative in your art while creating four distinct portraits in pencil. Because it's more fun that way.
Lesson 1: How to Graphite
Intro: Get familiar with various kinds of pencils, graphite hardnesses, erasers, blending stumps and the variety of ways you can use each one.
Value Scale: 

Learn how to create value, from light to dark. This will be your guide for more complex values schemes.

Basic Geometry and Volumes: Learn how to see your subject in three dimensions so your drawings don't look flat on the page.
Building a Head: Draw a human head from imagination using your learnings from Lessons 1-3 and employing the basic rules of light and shadow.


Lesson 2: Portrait (Frontal View)
Create a frontal-view portrait in layers, gradually adding detail to achieve realism.


Lesson 3: Portrait (Upward Angle)
Adjust your perspective to capture your subject from an upward angle, practicing what Lesson 3 taught you about drawing volumes in space. 

Lesson 4: Portrait (Foreshortened Perspective)
Learn how to create a portrait from an extreme perspective without losing your balance. Just don't look down!


Lesson 5: Portrait (Abstract Experimental)
In this lesson, you'll apply everything you've learned about structure, shading, blending, values, focal points and composition while expressing your unique artistic point-of-view.
Meet Your Teacher

Juan is an Argentinian graphite artist who uses his grasp of classical drawing techniques to bend artistic "rules" and bring his imagination to life on the page. "Drawing," he says, "is the most sincere form of art and the foundation for working in any other medium." His "obsession" with drawing in pencil has led to commercial work for celebrity clients like Dwayne "The Rock" Johnson and earned him a passionate fanbase of 40,000+ followers on Instagram. (Sktchy, Instagram)
Lifetime Access - Anytime, Anywhere
With your purchase, you'll get immediate, lifetime to the class on Sktchy, where you can communicate with Juan, connect with fellow students from around the world and get constructive feedback on your class art via desktop and any iOS or Android mobile devices.
FAQs
What art supplies do I need to participate?
Here is what Juan uses in this class:
Pencils (HB, 2B, 6B, 8B)
Erasers (Hard, Mono Zero, Kneaded)
Polychromos Black Color Pencil
Blending Tool
Sharpener
Napkin or paper towel
Can I go at my own pace?
Yes! You keep lifetime access to ALL class content, so you can go at your own pace.
What skill level do I need for this class?
Beginner to intermediate.
Do I get lifetime access to the class?
Yes! Your purchase gets you immediate, lifetime access to ALL class content.
What is your refund policy?
All sales are final.
Any Questions?
Contact us. We'll reply asap.