---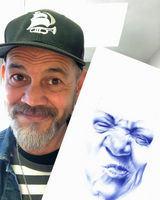 Portraits in Pen with Robin Hilthouse
Regular price $ 19.99 USD
With just a simple pen, you can create extraordinary portraits. Artist and pen prodigy Robin Hilthouse will show you how.
7+ hours of HD video instruction
8 in-depth video lessons

Inspiring reference photos

Lifetime access to all class content
Class Overview
Learn techniques for building volume, blending colors and mapping out light and shadow in pen.

Draw the human eye from start to finish with a focus on color blending and making not-so-obvious color choices.

Watch Robin's meticulous process of creating frontal-view and partial-view portraits using inexpensive pens to create stunningly lifelike portraits.

Learn how to create a dynamic, high-contrast portrait using different shades of a single color.

Class Outline

Materials & Exercises (34m, on-demand)
Eye in Pen (27m, on-demand)
Frontal-View Portrait (68m, on-demand)
Partial-View Portrait (50m, on-demand)
Shading with Crosshatching (43m

, on-demand)

Side-View Portrait in Pen (53m

, on-demand)

Frontal-View Portrait in Pen (66m

, on-demand)

High-Contrast Portrait in Pen (72m

, on-demand)

Meet Your Teacher
Robin is an art lecturer in The Netherlands who teaches traditional and digital drawing techniques. As an artist, his specialty is creating extraordinarily detailed portraits using everyday ballpoint pens. "I simply have to draw," says Robin. "It's second nature. On the bus, on the phone, in a meeting, during my holidays…I couldn't imagine myself without this amazing way of expression." (Sktchy, Instagram)
Lifetime Access - Anytime, Anywhere
With your purchase, you'll get lifetime access to the class on Sktchy, where you can communicate with Robin, connect with fellow students from around the world and get constructive feedback on your class art via desktop and any iOS or Android mobile devices.
FAQs
What tools do I need to take this class?
Can I go at my own pace?
Yes! You keep lifetime access to ALL class content, so you can go at your own pace.
What skill level do I need for this class?
Beginner to intermediate.
Do I get lifetime access to the class?
Yes! Your purchase gets you lifetime access to ALL class content.
What is your refund policy?
All sales are final.
Any Questions?
Contact us. We'll reply asap.