---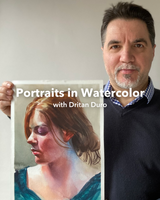 Portraits in Watercolor with Dritan Duro
Regular price $ 29.99 USD
🎨 Learn how to paint beautiful watercolor portraits.
🖌️ Improve your painting skills, one face at a time, with a watercolor virtuoso guiding your every brush stroke.
♾️ Get lifetime access with purchase. Start today, go at your own pace, revisit forever.
Class Outline
This class comprises eight hours of HD video instruction including seven full-length portrait tutorials complete with inspiring reference photos.
Lesson 1: Introduction to Materials, Terms and Concepts (~25m)
Lesson 2: Color Theory, Mixing and Application Methods (~20m)
Lesson 3: Portrait - Composition (~94m)
Lesson 4: Portrait - Ear (~37m)
Lesson 5: Portrait - Eyes, Nose, Mouth (~72m)
Lesson 6: Portrait - Monochrome (~44m)
Lesson 7: Portrait - Color Temperature (~48m)
Lesson 8: Portrait - Primary Colors (~69m)
Lesson 9: Portrait - Applying Techniques from All Preceding Lessons (~74m) 
Meet Your Teacher
Dritan Duro is a self-taught watercolor artist based in London.

"Working in watercolor gives me a great sense of satisfaction, especially when I start to lay down those first washes and see them take on a life of their own.

"What I love most is watercolor's vibrant and translucent nature - no other medium can match the transparency and glow that you can achieve with it.

"After years of practice and lots of trial and error, I've discovered how to surrender myself to the medium and let the water be my guide.

"Choosing the reference photo for my painting is another important part of my work. I look at lighting, values, focal points, color harmony and more.

"All in all, my goal is to capture likeness, mood and feeling in my portraiture. Together these are my artistic 'Holy Trinity'.

"I will share all of this, my full approach to painting watercolor portraits, in this class. I can't wait to paint with you."
Lifetime Access - Anytime, Anywhere
With your purchase, you'll get lifetime access to the class on Sktchy, where you can contact Dritan, connect with fellow students from around the world and get constructive feedback on your class art via desktop and any iOS or Android mobile devices.
FAQs
What tools do I need to participate?
Watercolor Paints
Watercolor Paper (cold-pressed, 300gsm, preferably cotton)
Brushes - Hake (1 large, 1 medium, 1 small)
Brushes - Mop
Brushes - Round (sable/synthetic/mixed hairs; sizes 04, 08, 10, 12)
Brushes - Flat (synthetic; .5in)
HB Graphite Pencil
Eraser
Water Spray Bottle
Water Container
Tissue Paper
Damp Cloth
Masking Tape
Is the content all new?
Yes! Dritan created these video lessons specifically for this class.
Can I go at my own pace?
Yes! You keep lifetime access to ALL class content, so you can go at your own pace and revisit forever.
What skill level do I need for this class?
This class is suitable for artists of all skill levels, from beginners on up.
Do I get lifetime access to the class?
Yes! Your purchase gets you lifetime access to ALL class content,
so you can go at your own pace and revisit forever.
Where do I access the class?
You can access the class on Sktchy, which is free to join.
What is your refund policy?
Get a full refund, with no questions asked, within 24 hours of purchase.
Any Questions?
Contact us. We'll reply asap.