---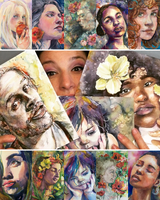 Portraits in Watercolor with Lauren Arno
Regular price $ 19.99 USD
Dive deep into watercolor with portrait artist Lauren Arno.
5+ hours of HD video instruction
5 full-length portraiture tutorials
5 inspiring reference photos
Immediate, lifetime access to all class content
Lesson 1
Learn how to achieve a range of tones using just one color while creating an expressive monochromatic portrait in watercolor.
Lesson 2
Learn how to create unique textures in watercolor and create a portrait with pops of vibrant color.
Lesson 3
Learn how to create realistic skin tones so you can paint any subject.
Lesson 4
Lauren will help you bring everything together from the previous lessons and show you her process of creating a portrait using a lush, saturated color palette.
Lesson 5
In this "celebration of color," Lauren creates a "rainbow warrior" portrait in watercolor and gold, metallic ink.
New to watercolor? Crash with Lauren!
In addition to the four main lessons, you'll also get access to Lauren's complete Watercolor Crash Course, a 110-minute tutorial in which Lauren shares all of her watercolor wisdom to help beginners get their brushes wet. Beyond countless tips, tricks and techniques, the Crash Course also features a full-length portrait tutorial.

Meet Your Teacher

Based in southern New Jersey, Lauren specializes in watercolor paintings of people, animals and flowers. Lauren Arno is an artist and art teacher living in southern New Jersey who specializes in watercolor portraits of people and pets as well as floral paintings. "I believe I have always been an artist," says Lauren. " As a child, I was always singing and drawing or painting. I try to find beauty everywhere I look. I examine colors, patterns and shapes in the world around me. I am most fond of painting portraits. I don't want to paint beautiful people – rather I desire to paint people beautifully." (Sktchy, Instagram)
Lifetime Access - Anytime, Anywhere
With your purchase, you'll get lifetime access to the class on Sktchy, where you can communicate with Lauren, connect with fellow students from around the world and get constructive feedback on your class art via desktop and any iOS or Android mobile devices.
FAQs
What tools do I need to participate?
Watercolor paints (Yellow, Magenta, Cyan, Dark Brown, Raw Umber, Gray)
Watercolor paper (≥140lb)
Watercolor brushes (Size 2,4 and 8 round brushes, 1" mop/flat brush)

Coarse sea salt/kosher salt
Paper towels and/or cotton rags
Tape and board to stretch your paper
Palette or tin to mix paints
White gel pen or white gouache
Masking fluid
Can I go at my own pace?
Yes! You keep lifetime access to ALL class content, including a recording of the live Q&As, so you can go at your own pace.
What skill level do I need for this class?
Beginner to intermediate.
Do I get lifetime access to the class?
Yes! Your purchase gets you lifetime access to ALL class content.
What is your refund policy?
All sales are final.

Any Questions?
Contact us. We'll reply asap.