---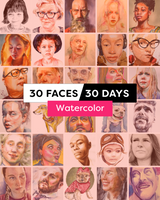 30 Faces/30 Days - Watercolor (04/23)
Regular price $ 59.99 USD
🎨 The Challenge: Create a watercolor portrait every day for 30 days. Start today! 
🖌️ Improve your painting skills, one face at a time, with 10 inspiring teachers and hundreds of fellow participants.
♾️ Get lifetime access with purchase. Go at your own pace, revisit forever. 
👇 How It Works
Each day of the challenge, you get a reference photo featuring an inspiring face and a video lesson on Sktchy. Watch the lesson, paint your muse and share your painting with a global community of fellow participants. Note: Some but not all lessons will include the drawing phase.
• 30 video watercolor lessons (~60 mins/lesson)
• 30 inspiring reference photos
• 10 extraordinary teachers
Brush up. Dive deep.

Watercolor invites you to loosen up, go with the flow, celebrate color, embrace "happy accidents" and experience the joy of painting.
In this challenge, you'll immerse yourself in this magical medium and grow as a painter, one face at a time. We'll cover:
• Application techniques (wet-on-wet/alla prima, wet-on-dry, etc.)
• Color choice, mixing, placement, blending, layering, texturing
• Achieving true darks
• Balancing light and dark ("Notan")
• Edge control and variation
• Paint washes, blooms
• Water control
• Lifting techniques
• Highlighting
• Measuring and painting without a preliminary sketch
• Artistic thought process
• Underpainting
• Storytelling through painting
• Composition
• Aquabord techniques
Meet Your Teachers
Learn from 10 extraordinary watercolor artists from around the world.
1. Bebe Keith (Sktchy, Instagram)
2. Bill Kambol (Sktchy, Instagram)
3. Cecile Welten (Sktchy, Instagram)
4. Dritan Duro (Sktchy, Instagram)
5. Gina Hawes (Sktchy, Instagram)
6. Jenny Barnes (Sktchy, Instagram)
7. Lee Grest (Sktchy, Instagram)
8. Lisa Filion (Sktchy, Instagram)
9. Lorraine Simonds (Sktchy, Instagram)
10. Marco Novo (Sktchy, Instagram)
30-Day Challenge, Lifetime Access
As a participant, you get lifetime access to all challenge content (videos, photos, etc.) on Sktchy, where you can communicate with your teachers and connect with fellow participants from around the world via desktop and any iOS or Android mobile devices.
FAQs
What materials do I need to participate?
Is the content all new?
Yes! The teachers created their video lessons specifically for this edition of the challenge.
What skill level do I need for this challenge?
The challenge is suitable for artists of all skill levels, from beginners on up. 
Do the video lessons have closed captions/subtitles?
Yes! All video lessons have auto-generated English CC/subtitles that can be auto-translated into various other languages. 
Do I need an iOS-device to participate?
No! We are hosting the challenge on Sktchy, which is available on iOS, Android and web.
Where do I access the challenge?
We publish all content related to the challenge on Sktchy.
Do I get lifetime access to the challenge?
Yes! Your purchase gets you lifetime access to ALL challenge content.
What is your refund policy?
Get a full refund, with no questions asked, within 24 hours of purchase.
Any Questions?
Contact us. We'll reply asap.