---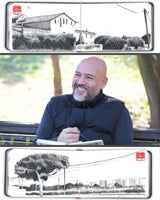 Crosshatching Landscapes in Fineliner Pen with David Morales
Draw landscapes in fineliner pen and improve your crosshatching skills with artist David Morales.
2 hours of HD video instruction

2 in-depth video lessons, complete with inspiring reference photos

Immediate, lifetime access to all class content on Sktchy
Class Overview
The class comprises 2 hours of HD video instruction:
Lesson 1: Landscape with La Masia

Lesson 2: Landscape with Pine Tree
Meet Your Teacher

David is a Colombian architect and artist based in Barcelona and his hometown of Ibagué. "I feel deeply passionate about the beauty in worldly things, which I try to capture in my notebooks," he says. Working with fineliner pens, David gains understanding of his environment, including people, places and buildings, through a daily practice of drawing. (Sktchy, Instagram)
Lifetime Access - Anytime, Anywhere

With your purchase, you'll get immediate, lifetime to the class on Sktchy, where you can communicate with David, connect with fellow students from around the world and get constructive feedback on your class art via desktop and any iOS or Android mobile devices.
FAQs
What tools and materials do I need to take this class?
David will be using the following supplies in this class:
Pencil
Fineliner Pen
Sketchbook
What skill level do I need for this class?
Beginner to intermediate.
Do I get lifetime access to the class?
Yes! Your purchase gets you lifetime access to ALL class content.
Can I go at my own pace?
Yes! You get lifetime access to all class content, so you can go at your own pace and revisit whenever and as often as you like.
What is your refund policy?
All sales are final.
Any Questions?
Contact us. We'll reply asap.