---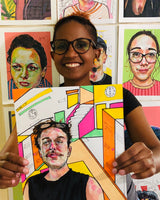 Mixed-Media Portrait with Nadyia Duff
Create a bold and vibrant portrait with artist Nadyia Duff using pens, markers and watercolor.
2.5+ hours of HD video instruction
4 in-depth video lessons, complete with inspiring reference photo
Immediate, lifetime access to all class content

on

 

Sktchy
LESSON 1: BASE SKETCH
Create a base sketch of your subject using pencil to outline the details of face and body. This base sketch becomes your "coloring page," the foundation of your portrait.
Lesson length: ~25m
LESSON 2: COLOR CROSSHATCHING
Using ink you will use hatching and crosshatching to add rhythm and motion to your portrait. You will also step outside of your comfort zone by swapping out natural pastel skin tones for more vibrant colors. 
Lesson length: ~29m
LESSON 3: MARKERS & WATERCOLOR
Learn how to combine color theory and watercolor blending techniques to achieve depth and form in your portrait.
Lesson length: ~60m
LESSON 4: BACKGROUND
Time to bring your portrait together with a one-point perspective background that adds a sense of narrative to your piece. Learn how to use color to keep your viewer's eye moving and engaged.
Lesson length: ~41m
FAQs
What tools do I need to take this class?
HB pencil
Colored pens
Bristol or mixed media paper
Alcohol markers and/or a watercolor set
Can I go at my own pace?
Yes! You keep lifetime access to ALL class content, including a recording of the live Q&A, so you can go at your own pace.
What skill level do I need for this class?
Beginner to intermediate.
Do I get lifetime access to the class?
Yes! Your purchase gets you lifetime access to ALL class content.
What is your refund policy?
All sales are final.

Any Questions?
Contact us. We'll reply asap.